FOR IMMEDIATE RELEASE—June 25, 2019
CONTACT: Sue Lamborn, 812.372.6918
slamborn@thrive-alliance.org
Thrive Alliance Receives Accreditation for Case Management for Long-Term Services and Supports from the National Committee for Quality Assurance (NCQA) 
Columbus, IN—Thrive Alliance's Long-Term Services and Supports Case Management program has gained two-year accreditation from the prestigious National Committee for Quality Assurance (NCQA). Thrive Alliance Case Management leadership completed the accreditation process with funding assistance provided, in part, by the Heritage Fund.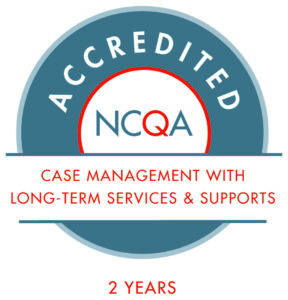 "Achieving NCQA accreditation demonstrates that our Case Management Services meet the highest levels of quality," said Mark Lindenlaub, Executive Director of Thrive Alliance. "Everyone involved in our Case Management area should be commended for their hard work and dedication in meeting the standards to attain this distinction."
According to NCQA, earning the Accreditation of Case Management Long-Term Services and Supports demonstrates that an organization is dedicated to coordinating the delivery of care in a person-centered and integrated manner to help individuals function optimally in their preferred setting.
Accreditation standards are developed with input from researchers in the field and are purposely set high to encourage organizations to continuously enhance their quality. The standards are intended to help organizations achieve the highest level of performance possible.
NCQA is a private, nonprofit organization dedicated to improving health care quality. NCQA accredits and certifies a wide range of health care organizations. It also recognizes clinicians and practices in key areas of performance. NCQA's Healthcare Effectiveness Data and Information Set (HEDIS®) is the most widely used performance measurement tool in health care.
Thrive Alliance serves the residents of Bartholomew, Brown, Decatur, Jackson, and Jennings counties.  Our services focus on helping older adults and individuals with disabilities remain safe and independent in their own home as long as possible. Our services also include providing safe and affordable housing for low-income individuals and families.