The Foster (or Classroom) Grandparent program of Bartholomew, Brown, Decatur, Jackson and Jennings counties is currently recruiting new participants. Signs are going up throughout the area near schools where the program is active. Pictured below are recruitment signs at Lillian Schmitt Elementary in Columbus and Scipio Elementary in Jennings County.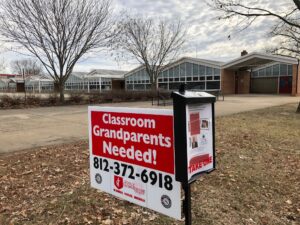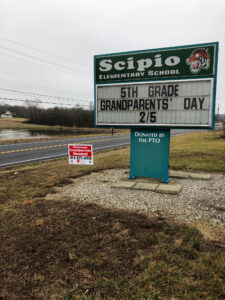 Eligible adults serve in public and private school classrooms and Head Start Centers across five Indiana counties (Bartholomew, Brown, Decatur, Jackson, and Jennings).  Classroom Grandparents must be at least 55 years of age, pass a criminal history check, and meet income eligibility guidelines. Serving with Foster Grandparents provides seniors the opportunity to share their lifetime of experiences, talents, learning, wisdom and interest in a one-on-one situation. Foster Grandparents in southeastern Indiana operates in partnership with Thrive Alliance.
Marci DeBock, Foster Grandparent Director said, "We are always interested in recruiting new participants in the program. We are making a special push right now to ensure we have a full roster of Classroom Participants in 2020 to meet the many requests we receive from the schools."
Anyone interested in learning more about becoming Foster Grandparent, may visit www.fostergrandparensthrive.org or call 812-372-6918 and ask for Foster Grandparents.