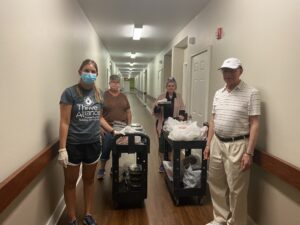 Due to the COVID-19 emergency, Thrive Alliance had to suspend its congregate meal sites until safe to resume again. In the meantime, congregate meal participants were transitioned to home delivery through a variety of options. In addition, Thrive Alliance staff, with the assistance of TRIAD volunteers, recently offered home delivered hot meals to 133 residents of Willow Manor and Hawthorne Hills in Nashville. The meals were prepared by Catering by Karr and delivered throughout Willow Manor. Similar hot meal delivery is planned for the upcoming weeks –one way that Thrive Alliances is continuing to provide needed services despite the pandemic disruption.
++++++++++++++++++++++++++++++++++++++++++++++++++++++++++++++++++
Guided by the vision that everyone has the opportunity to live a secure, engaged and independent life, our mission at Thrive Alliance is to improve the quality of life and health for people at risk of losing their independence.
We help people get the right information, resources and support needed to live as independently as possible.  Our network of programs focuses on issues related to affordable housing, caregiver support and services, nutrition and wellness programs, transportation and accessibility services, as well as fostering community-wide support for aging related issues. We serve as Indiana's Agency on Aging for Bartholomew, Brown, Decatur, Jackson and Jennings counties.