Thrive Alliance receives Lt. Governor's Award for Crossroads Senior Apartments Project in Seymour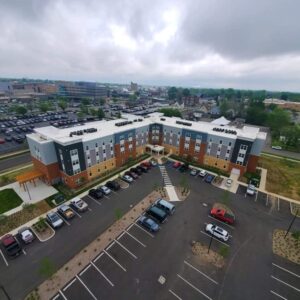 Indiana Lt. Governor Suzanne Crouch has announced the recipients of the 2022 Excellence in Affordable Housing Awards presented at the Indiana Housing Conference on September 22. The awards are presented by the Lt. Governor through the Indiana Housing and Community Development Authority (IHCDA) to the most outstanding new properties in four categories and celebrate the best in Indiana affordable housing.
Among the award recipients this year is Thrive Alliance for Crossroads Senior Apartments, a $12.5 million, 64-unit affordable apartment complex at 500 South Poplar Street in Seymour, Indiana.
"We are excited to receive this recognition from the Lt. Governor," said Mark Lindenlaub, Thrive Alliance Executive Director. "Crossroads represents our vision for the future of affordable senior housing, offering not just a place to live, but an environment plus services to support people who want to live longer, healthier lives."
"IHCDA couldn't support our mission without our network of incredible housing partners," said Jacob Sipe, Executive Director of IHCDA. "Mark is a leader in this industry, and he has a great team working hard to keep housing affordable for Hoosiers. We look forward to continued success in Seymour and our growing partnership with Thrive Alliance."
Since opening earlier this year, Crossroads has received positive reaction from residents, the overall Seymour community and local government leaders. "This really was a total team effort between Thrive Alliance, our contracting partners and the local community," Lindenlaub said. "We had some obstacles along the way taking on such a major project during the pandemic, but the final results exceeded our expectations."
Matt Nicholson, Mayor of Seymour said, "I have enjoyed being able to watch the development of Crossroads Senior Apartments, first as a city council member when Thrive Alliance initially asked the city to be involved in this project to the end product. The transformation of this property from a vacant, contaminated field to a beautiful and thriving senior living community has met a great need in Seymour for senior housing and sparked a valued partnership with Thrive Alliance in addressing our current and future needs for our senior population. We, as a city, are grateful for the work Thrive has accomplished in Seymour and are excited to see they are being recognized at the state level for this project."
Crossroads is an independent senior living community offering safe, affordable housing combined with activities and services to create a healthy living campus for residents. Residential amenities include a community kitchen, laundry facilities, an exercise room, media/event room, library/computer lab, a rooftop terrace, outdoor gazebo area and sitting/meeting rooms. In addition, Thrive Alliance and Schneck Medical Center are working together to support healthy lifestyles for Crossroads residents, including on-site regular health screenings, health education, counseling services, food services, wellness and nutrition services, dementia care and social engagement activities.
This is the fourth project for which Thrive Alliance has been awarded the Lt. Governor's Award for Excellence. Prior award-wining projects include The Armory Apartments and Gateway Apartments in Columbus, as well as Historic Greensburg Square.