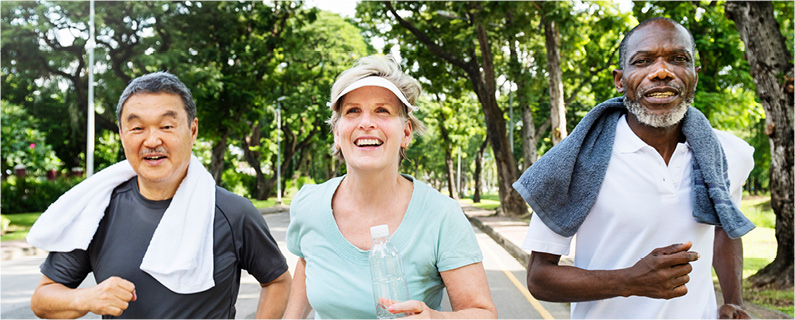 Health starts with each one of us including our eating and exercise habits, whether we smoke, and how quickly we see a doctor when we are sick. Our health is also affected by access to social and economic opportunities, such as resources and supports that are available in our homes, neighborhoods, and communities.
Thrive Alliance is dedicated to improve the social determinants of health which includes economic stability, education, social and community context, health and health care, and neighborhood and built environment. To address the social determinants of health in our community, Thrive Alliance is committed to offering a variety of evidence-based health and wellness programs.
Thrive Alliance provides many health and wellness programs that are designed to help reduce healthcare costs and improve overall quality of life for older adults. These programs help older adults prevent and manage chronic conditions and live healthier lifestyles.
For more information on any of these health and wellness programs, you can contact Thrive Alliance at 812-372-6918.
Programs and Classes
Class offerings and health education sessions vary over the course of the year. Please call Thrive Alliance at 812-372-6918 to find specific details for each program. Our current health and wellness programming includes:


Fear of falling can be just as dangerous as falling itself.  People who develop this fear often limit their activities, which can result in severe physical weakness, making the risk of falling even greater.  Many older adults also experience increased isolation and depression when they limit their interactions with family and friends. The evidence-based program, A Matter of Balance can help individuals improve their quality of life and remain independent.
A Matter of Balance is designed to reduce the fear of falling and increase activity levels among older adults. Participants learn to set realistic goals to increase activity, change their environment to reduce fall risk factors, and learn simple exercises to increase strength and balance.
A Matter of Balance Coaches Training
A Matter of Balance coaches help participants become more confident about managing falls by believing that they can increase their strength, find ways to reduce falls, and protect themselves if they do fall. In addition, participants report that they have increased the amount they exercise on a regular basis.
A Matter of Balance coaches need good communication and interpersonal skills, enthusiasm, dependability and a willingness to lead small groups of older adults. Coaches also need to be able to lead low to moderate level exercise.
If you are interested in becoming a coach for A Matter of Balance, please contact Thrive Alliance at 812-372-6918.

Powerful Tools for Caregivers is an evidenced-based, educational series designed to provide you with the tools you need to take care of yourself. This program helps family caregivers reduce stress, improve self-confidence, enhance communication with how they are feeling, balance their lives, increase their ability to make tough decisions, and locate helpful resources.
Classes consist of six sessions held once a week. Interactive lessons, discussions and brainstorming will help you take the "tools" you choose and put them into action for your life.

Bingocize is an evidence-based 10-week program that combines a bingo-like game with exercise and health education. Bingocize has been shown to increase older adults' functional fitness, health knowledge, and social engagement in a variety of settings.

Enhance Fitness is an evidence-based program, that is designed specifically for older adults to help prevent falls and increase physical activity. The exercises are formatted into a formal regimen focusing on four key areas important to the health and fitness of the participants including low impact cardiovascular, dynamic/static balance work, strength training, and stretching.
The goal of Enhance Fitness is to improve the overall functional fitness and well-being of older adults.
Monthly Health Education
Thrive Alliance provides monthly health and nutrition education. These include reading materials, a variety of educational games, and seminars. Each month there is a different health and nutrition topic that is covered, which correlates to the health and wellbeing of older adults.
Senior Farmers Market Voucher Program
This program offers vouchers for older adults ages 60 years and older to purchase fresh produce from local farmers' markets in the summer.