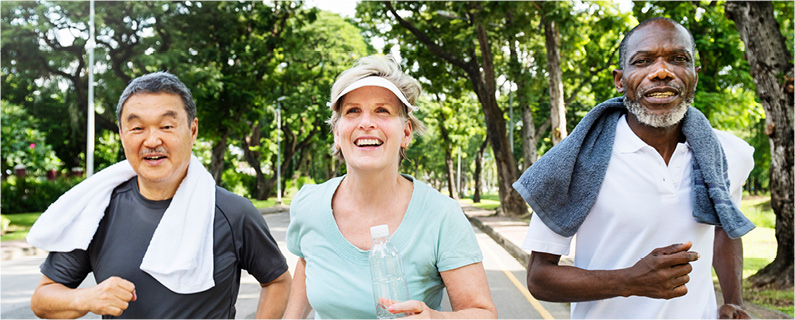 Thrive Alliance is dedicated to improve the social determinants of health which include economic stability, education, social and community context, health and health care, and neighborhood and built environment. To address the social determinants of health in our community, Thrive Alliance is committed to offering a variety of evidence-based health and wellness programs.
Thrive Alliance provides many health and wellness programs that are designed to help reduce healthcare costs and improve overall quality of life for older adults. These programs help older adults prevent and manage chronic conditions and live healthier lifestyles.
For more information on any of these health and wellness programs, contact Thrive Alliance at 812-372-6918.
Programs and Classes
Class offerings and health education sessions vary over the course of the year.
Services may be interrupted or adjusted to protect the health of clients and staff during the COVID-19 pandemic.  Please call Thrive Alliance at 812-372-6918 for details for each program.
Our current health and wellness programming includes:

Fear of falling can be just as dangerous as falling itself.  People who develop this fear often limit their activities, which can result in severe physical weakness, making the risk of falling even greater. The evidence-based program, A Matter of Balance can help individuals improve their quality of life and remain independent.  A Matter of Balance is designed to reduce the fear of falling and increase activity levels among older adults. Participants learn to set realistic goals to increase activity, change their environment to reduce fall risk factors, and learn simple exercises to increase strength and balance.

Bingocize is an evidence-based 10-week program that combines a bingo-like game with exercise and health education. Bingocize has been shown to increase older adults' functional fitness, health knowledge, and social engagement in a variety of settings. 

Delay the Disease is an evidence-based program that is designed to optimize physical function and help delay the progression of symptoms associated with Parkinson's disease. Many participants report a regained ability to successfully manage the disease, improve their quality of life and take back control over their own body movements.  

Enhance Fitness is an evidence-based program that is designed specifically for older adults to help prevent falls and increase physical activity. The exercises are formatted into a formal regimen focusing on four key areas important to the health and fitness of the participants including low impact cardiovascular, dynamic/static balance work, strength training, and stretching. The goal of Enhance Fitness is to improve the overall functional fitness and well-being of older adults. 
Chronic Disease Self-Management Program
This program is designed to provide you with the skills and education to learn to improve your life while living with your chronic disease. Topics covered in this program include managing symptoms, healthy eating, medication management and usage, stress management, making informed treatment decisions, talking with your healthcare provider, and goal setting.  
Diabetes Prevention Program
The Diabetes Prevention Program focuses on small, measurable, reasonable goals to give participants confidence they can make the necessary changes to reduce their risk for type 2 diabetes and live healthier lives. Participants learn how to incorporate healthier eating, moderate physical activity, and problem-solving and coping skills into their daily lives. 
Monthly Health Education
Each month there is a different health and nutrition topic that is covered, which correlates to the health and wellbeing of older adults. Thrive Alliance provides monthly health and nutrition education. These include
reading materials, a variety of educational games, and seminars.